Softaculous Has Arrived!
Sat, 28 Apr 2012
Virtual Creations has just replaced Fantastico with Softaculous on all our servers. Softaculous is a cPanel software auto-installer system, which can install any one of 264 software packages onto your hosting account/website with one click!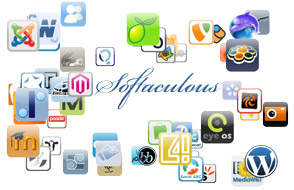 Here's why we decided to switch:
264 scripts available, compared to Fantastico's 50
One-step installation
User ratings/reviews of different scripts
Much easier to use
All Softaculous scripts have demo versions available to try out before you install them
Upgrade existing application installations with one click
Click here
for a great comparison chart that shows how Softaculous measures up to other auto-installer systems, including Fantastico.
Click here
to learn more about Softaculous.
Note that Softaculous is only available to our customers on the "Virtual Gold" or "Virtual Platinum" hosting packages. If you don't know which package you're on, or would like to upgrade, please
contact us
.
To explore Softaculous for your website/hosting account, simply log into your cPanel control panel, and look for the "Softaculous" icon in the "Software / Services" section, or look for the new "Softaculous Apps Installer" section at the bottom of the page.
If you have already installed any Fantastico scripts, these have been imported into the Softaculous system and will be maintained from Softaculous from now on.